Home >> ALL News >> News
Researchers Reveal Peli1's Role in Alzheimer's Disease Through Modulating Microglial Phagocytosis
A recent study, published online in PLOS Biology, revealed the role and mechanism of the E3 ubiquitin ligase Pellino 1 (Peli1) in Alzheimer's Disease (AD), which mediated C/EBPβ ubiquitination and degradation, thus promoting the phagocytic ability in microglial cells. This research was performed by Dr. XIAO Yichuan's research group from Shanghai Institute of Nutrition and Health (SINH) of the Chinese Academy of Sciences.
AD is becoming a rising threat to public health worldwide. It's a progressive neurodegenerative disorder with the hallmark of β-amyloid (Aβ) accumulation in the brains. The Aβ accumulation is always found to be associated with various neuronal dysfunction in both human and mouse AD brains, and thus the levels of brain Aβ is positively correlated with the disease symptoms. Microglia are the resident macrophages in the brain and contribute to the clearance of Aβ through phagocytosis in AD. However, the intrinsic molecular mechanism through which Aβ is engulfed through microglial phagocytosis remain poorly understood.
Previous study by Dr. XIAO's research group revealed that Peli1 was predominantly highly expressed in microglia when compared with the other major neural cells, implying a non-redundant function of Peli1 in central nervous system (CNS) to modulate microglia-related neurological diseases. Indeed, Peli1 is a crucial modulator of microglia-mediated autoimmune neuroinflammation, Parkinson's Disease pathogenesis and viral encephalitis.
In this study, researchers identified Peli1 as an essential negative regulator of microglial phagocytosis through inhibition of the expression of scavenger receptor CD36. Mechanistic studies revealed that Peli1 acted as the direct E3 ubiquitin ligase of C/EBPβ, a major transcription factor that was responsible for CD36 expression, and mediated C/EBPβ degradation. More interestingly, microglial Peli1 was induced in human AD brains during disease pathogenesis.
These findings established the essential roles of Peli1 in mediating C/EBPβ degradation in the Aβ accumulation during AD pathogenesis, which suggested that Peli1 may be the potential targets for AD treatment or prevention.
This study entitled "Peli1 impairs microglial Aβ phagocytosis through promoting C/EBPβ degradation" was published online in PLOS Biology on Oct. 5, 2020. The research was supported by the grants from the Chinese Academy of Sciences, the National Key R&D Program of China, the Jiangsu Provincial Key Research and Development Program, the National Natural Science Foundation of China, etc.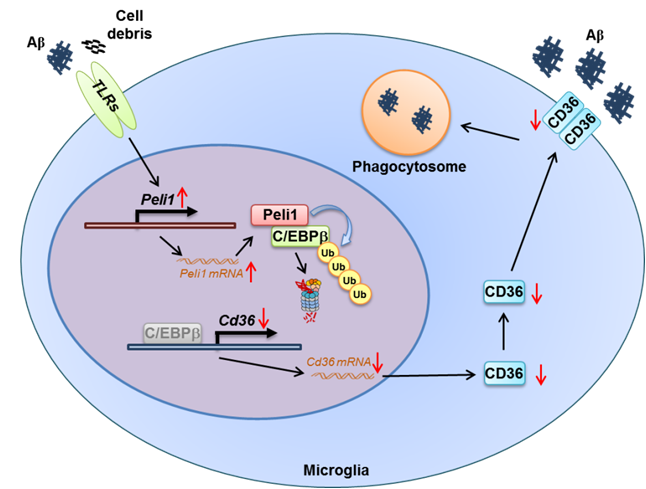 The model of Peli1 in regulating microglia-mediated Aβ phagocytosis and AD pathogenesis.
(Image by Dr. XIAO's research team)
Media Contact:
WANG Jin (Ms.)
Shanghai Institute of Nutrition and Health,
Chinese Academy of Sciences
Email: sibssc@sibs.ac.cn