Home >> ALL News >> News
Chinese Researchers Reveal Novel Antitumor Mechanism of a Class of Polyphenolic Compounds from Peanut Skin
A recent study performed by a research team led by Prof. YIN Huiyong from Shanghai Institute of Nutrition and Health (SINH), of the Chinese Academy of Sciences (CAS), revealed antitumor effects of a class of polyphenolic compounds isolated from peanut skin, named proanthocyanidin-B2 (OPC-B2). This work was published online in Redox Biology on August 25, 2020, entitled "Polyphenolic Proanthocyanidin-B2 Suppresses Proliferation of Liver Cancer Cells and Hepatocellular Carcinogenesis through Directly Binding and Inhibiting AKT Activity".
As a primary liver malignancy, Hepatocellular Carcinoma (HCC) ranks as the 4th leading cause of cancer mortality worldwide. Although the diagnosis and treatment of HCC has been greatly improved in recent years, the overall survival is far from satisfaction. Several drugs are used clinically in the treatment of HCC, but drug resistance has often caused chemotherapy failure in HCC. Therefore, it is an urgent need to develop safe and effective agents to treat HCC.
OPC-B2 consisting of two epicatechins exhibits pleotropic beneficial health effects including anti-tumor effects. However, the underlying molecular mechanism remains poorly defined.
In this study, researchers find that OPC-B2 has strong anti-tumor effects in several HCC cell lines. Similar effects were observed in xenograft tumor growth mouse model as well as in diethyl-nitrosamine (DEN) and CCl4-induced primary HCC mouse model.
Further mechanistic studies identify that OPC-B2 directly binds to AKT and inhibits AKT activity, leading to cell cycle arrest and metabolic inhibition. Specifically, OPC-B2 binds to the PH and kinase domains of AKT, forming a pocket at the interface of these two domains to lock the kinase in a closed conformation. Molecular docking and dynamic simulation suggest that Arg86 and Lys297 of AKT are critical sites for OPC-B2 binding. Experimental mutation of these two amino acids almost completely eliminate the anti-tumor efficacy of OPC-B2.
Together, this study reveals that OPC-B2 is a novel allosteric AKT inhibitor with potent anti-tumour efficacy beyond its antioxidant and anti-inflammatory properties, highlighting its potential in clinical application for liver cancer therapy either as a monotherapy or adjuvant to enhance efficacy of current HCC treatment. Furthermore, this novel model of action may help to develop allosteric inhibitors of AKT for HCC treatment to overcome the side effects of current AKT inhibitors, such as the well-studied MK 2206.
This work was carried out in collaboration with Prof. WANG Qiang's team at Institute of Food Science and Technology, Chinese Academy of Agricultural Sciences (CAAS). Ph.D. student Ms. LIU Guijun from Prof. Yin's laboratory at SINH and Prof. SHI Aimin from Institute of Food Science and Technology, CAAS, are the co-first authors for this work. Prof. YIN Huiyong, Dr. TAO Yongzhen from SINH and Prof. WANG Qiang are co-corresponding authors for this work. This work was funded by Chinese Ministry of Science and Technology, the National Natural Science Foundation of China, the China Association for Science and Technology, Agricultural Science and Technology Innovation Project. This research was also supported by the molecular biology/biochemistry/cell technology platform, experimental animal platform, mass spectrometry core lab, and biological sample pathology analysis platform at SINH.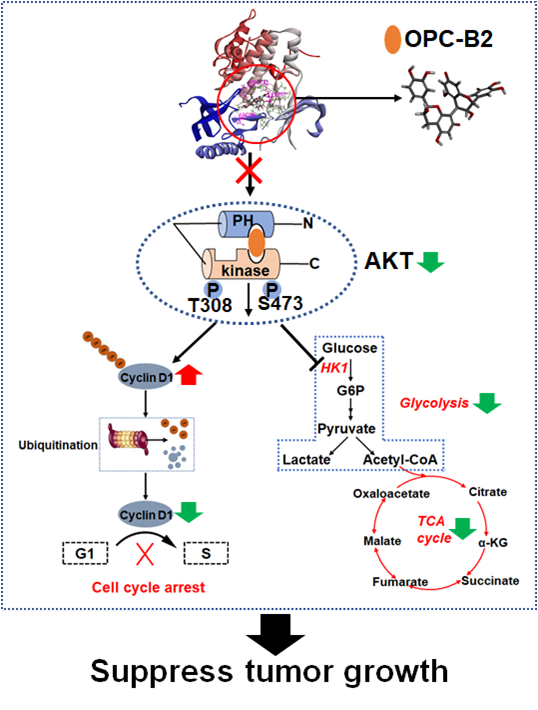 A working model of antitumor effects of OPC-B2 through direct binding and inhibition of AKT. (Image provided by Prof. YIN Huiyong's team)
Media Contact:
WANG Jin (Ms.)
Shanghai Institute of Nutrition and Health,
Chinese Academy of Sciences
Email: sibssc@sibs.ac.cn