Home >> ALL News >> News
Perspective on Human Pluripotent Stem Cell-derived Cardiomyocytes in Heart Disease Modeling and Repair
On July 29, 2020, scientific journal Stem Cells Translational Medicine online published "Perspective on human pluripotent stem cell-derived cardiomyocytes in heart disease modeling and repair" by Dr. YANG Huang-Tian's research team from Shanghai Institute of Nutrition and Health (SINH) of the Chinese Academy of Sciences (CAS) and Dr. CAO Nan's team from Sun Yat-sen University.
Heart diseases (HDs) encompass a broad range of disorders extending from myocardial infarction (MI) to heritable cardiomyopathies, and heart failure (HF) are the leading cause of morbidity and mortality worldwide. Despite remarkable clinical progress have made, current therapies cannot restore the lost myocardium, prevent the occurrence and development of heart failure. Meanwhile, the correlation of genotype to phenotype of many HDs is poorly modeled. Therefore, it is an urgent matter to develop new therapeutic strategies for cardiac therapy.
Cell therapy by transplantation of human pluripotent stem cells (hPSCs) derived cardiac lineage cells is one of the most notable alternative therapeutic approaches. hPSCs, including embryonic stem cells (hESCs) and induced pluripotent stem cells (hiPSCs), own the potential to differentiate into cardiac lineage cells which were proved to be promising in cell therapy.
Preclinical studies by Dr. YANG Huang-Tian's research team from SINH revealed that hPSC-derived cardiac lineage cells own the potential to differentiate into functional cells to replace lost cells after myocardial infarction. Meanwhile, transplantation of hPSC-derived cardiac lineage cells contributes to infarct healing via trigger endogenous cardiac repair mechanisms. In addition, no tumorigenesis and arrhythmia have been observed in the preliminary clinical trials for patients with severe ischemic heart failure.
At the same time, hPSC-based disease modeling has not only shed new lights on the genetic and/or molecular basis of many cardiac diseases but also established cellular phenotypes characterizing HDs, revealing tremendous potential in the phenotypic approach of drug discovery. Although the outcomes are encouraging, several obstacles, such as cell type, maturity, quality control, residence, immune rejection and arrhythmia induced by cell transplantation need to be overcome before moving toward clinical application.
In brief, the perspective overviews recent advances, challenges, and potential solutions in the application of hPSC-derived cardiomyocytes in these fields. Moreover, it outlines the successful experiences and limitations of current studies on cardiac therapy, heart disease modeling, and drug discovery and summarizes some application barriers as well as potential directions to enable this field to move forward.
This work was supported by the National Natural Science Foundation of China, the National Key R&D Program of China, Strategic Priority Research Program of CAS, the Guangdong Innovative and Entrepreneurial Research Team Program, and the Fundamental Research Funds for the Central Universities.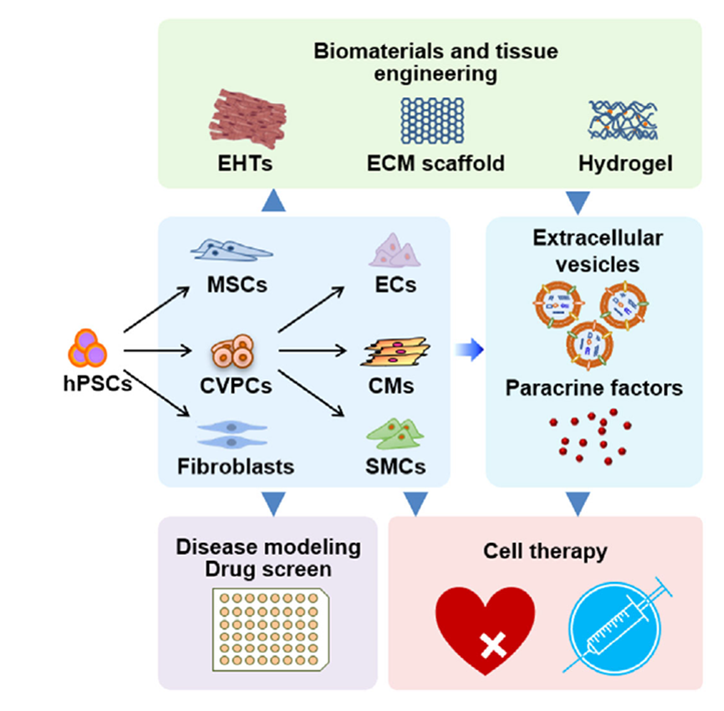 Application of hPSC-derived cardiac cells in cardiac repair, disease modeling and drug discovery. (Image by Dr. YANG Huang-Tian's team)
Media Contact:
WANG Jin (Ms.)
Shanghai Institute of Nutrition and Health,
Chinese Academy of Sciences
Email: sibssc@sibs.ac.cn