Home >> ALL News >> News
Researchers Reveal Cardioprotective Effects of Extracellular Vesicles Secreted from hESC-CVPCs in Infarcted Heart and lncRNA-related Mechanisms
Myocardial infarction (MI), characterized by massive cardiomyocyte death followed by cardiac dysfunction and myocardial fibrosis, is a leading cause of death worldwide. Endogenous myocardial protective systems can be triggered by injurious stimuli to reduce cardiomyocyte death and promote proliferation of preexisting cardiomyocytes but they are insufficient for cardiac repair. Therefore, developing new therapeutic strategies to promote the infarct healing by reducing cardiomyocyte death following acute MI (AMI) and improving the cardiac performance are desirable.
Cell therapy by transplantation of stem/progenitor cells and their derived cardiovascular cells is one of the most notable alternative therapeutic approaches under exploration. Previous study by Dr. YANG Huang-Tian's team and others showed that human pluripotent stem cells (hPSCs)-derived cardiovascular progenitor cells (CVPCs) are a promising source for myocardial repair, while the mechanisms remain largely unknown.
A recent study by Dr. YANG Huang-Tian's research team from Shanghai Institute of Nutrition and Health (SINH) of the Chinese Academy of Sciencesm (CAS) reveals the cardioprotective effects of the extracellular vesicles (EVs) secreted from human embryonic stem cells (hESC)-derived CVPCs (hESC-CVPCs), referred to as hCVPC-EVs, under normoxic (EV-N) and hypoxic (EV-H) conditions in the infarcted heart and the long non-coding RNA (lncRNA)-related mechanisms.
In this study, the injection of hCVPC-EVs into acutely infracted murine myocardium significantly has been shown to improve the cardiac function and reduced fibrosis at day 28 post-MI, which is accompanied with the improved vascularization and cardiomyocyte survival at border zones. Consistently, hCVPC-EVs enhance the tube formation and migration of human endothelial cells (ECs), and improve the cell survival of neonatal rat cardiomyocytes (NRCMs) with oxygen glucose deprivation (OGD) injury.
Moreover, the improvement of the EV-H in cardiomyocyte survival and tube formation of ECs is significantly better than these in the EV-N. RNA-seq analysis reveals a high abundance of the lncRNA MALAT1 in the EV-H. Its abundance is upregulated in the infarcted myocardium and cardiomyocytes treated with hCVPC-EVs. Overexpression of human MALAT1 improves the cell viability of NRCM with OGD injury, while knockdown of MALAT1 inhibites the hCVPC-EV-promoted tube formation of ECs.
Furthermore, luciferase activity assay, RNA pull-down, and manipulation of miR-497 levels show that MALAT1 improves NRCM survival and EC tube formation through targeting miR-497.
These findings reveal that hCVPC-EVs promote the infarct healing through the improvement of cardiomyocyte survival and angiogenesis. The cardioprotective effects of hCVPC-EVs can be enhanced by hypoxia-conditioning of hCVPCs and are partially contributed by MALAT1 via targeting the miRNA.
These findings provide new insights into the cardioprotective mechanisms of hCVPCs and the cell-secreted EVs, and suggest that hCVPC-EVs might be used as an approach to understand the mechanism of infarct healing and promote healing of infarcted hearts.
The study entitled "Extracellular Vesicles from Human Embryonic Stem Cell-Derived Cardiovascular Progenitor Cells Promote Cardiac Infarct Healing through Reducing Cardiomyocyte Death and Promoting Angiogenesis" was published online in Cell Death & Disease on May 11, 2020. Dr. WU Qiang and Dr. WANG Jinxi from SINH are the co-first authors and Dr. YANG Huang-Tian is the corresponding author. This study was also supported by Dr. Roger Sik-Yin FOO and his team members from Genome Institute of Singapore and National University of Singapore. The study was funded by the grants from the National Natural Science Foundation of China, the Strategic Priority Research Program of the CAS, and National Key R&D Program of China.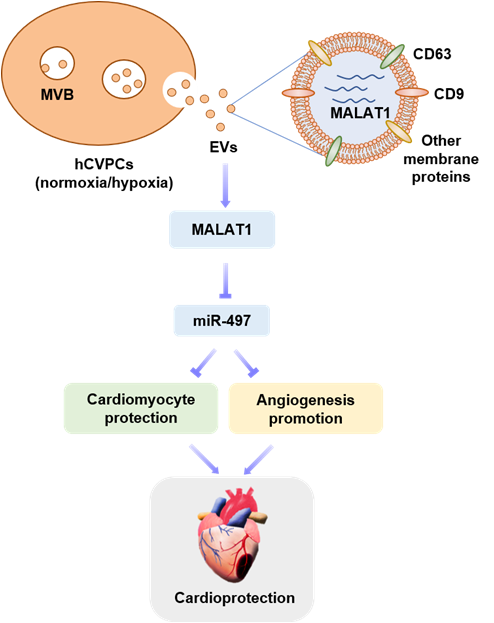 Schematic representation of the therapeutic effect and mechanisms of hCVPC-secreted extracellular vesicles in the infarcted hearts. (Image by Dr. YANG Huang-Tian's team)
Media Contact:
WANG Jin (Ms.)
Shanghai Institute of Nutrition and Health,
Chinese Academy of Sciences
Email: sibssc@sibs.ac.cn