Home >> ALL News >> News
Researchers Discovered Important Effects of Endogenous Cholesterol Ester Hydroperoxides on Cholesterol Levels
Cardiovascular diseases (CVD) are the leading causes of death in the world. Dysregulation of cholesterol metabolism represents one of the major causes for atherosclerotic CVD. Previous studies implicated oxCEs derived from oxLDL in CVD but the underlying mechanisms remain poorly defined.
A PhD student GUO Shuyuan, supervised by Prof. YIN Huiyong, and colleagues at Shanghai Institute of Nutrition and Health, Chinese Academy of Sciences demonstrated that the levels of oxCEs in human plasma were significantly elevated in myocardial infarction (MI) group, compared to control. Furthermore, the study showed that the major endogenous oxCE, ch-13(c,t)-HpODE, increased plasma cholesterol level and decreased the cholesterol level in liver and peritoneal macrophages in vivo. The decrease of cholesterol uptake induced by ch-13(c,t)-HpODE in macrophage was dependent on LXR-IDOL-LDLR pathways, while CEOOHs inhibited cholesterol uptake of hepatocytes in a LXRα/LDLR dependent manner. Conversely, knockout of LXRα or LDLR in mice blunted the effects of CEOOHs on cholesterol level. Together, this study has identified a novel molecular mechanism by which cholesterol levels are regulated by endogenous CEOOHs in the context of CVD.
In this study, targeted lipidomics was used to systematically analyze various oxidation products derived from cholesterol esters in human plasma with CVD and the levels of oxidized cholesterol esters (oxCEs) are significantly different in various types of CVD, and they are significantly elevated in the group of myocardial infarction (MI). Then, a major oxidation product (cholesteryl-13(cis,trans)-hydroperoxy-octadecadienoate, ch-13(c,t)-HpODE) is synthesized and used to explore the effect on cholesterol metabolism both in vitro and in vivo.
On December 12, 2018, an original research article based on the research entitled "Endogenous Cholesterol Ester Hydroperoxides Modulate Cholesterol Levels and Inhibit Cholesterol Uptake in Hepatocytes and Macrophages" was published online at Redox Biology.
The research work was supported by Prof. ZHENG Lemin's research group at Peking University Medical College, Tian Tan Hospital of Capital Medical University, Prof. SONG Bao-Liang's lab of Wuhan University, and Prof. HE Ben of Shanghai Renji Hospital. This study was funded by the grants from the Ministry of Science and Technology of China, National Natural Science Foundation of China, and Chinese Academy of Sciences.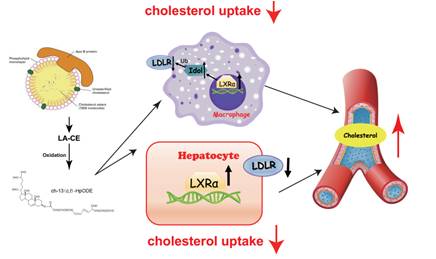 The Effect of Endogenous Oxidized Cholesterol Esters on Cholesterol Levels
(Image by Prof.YIN Huiyong's Group)
Media Contact:
WANG Jin (Ms.)
Shanghai Institute of Nutrition and Health,
Chinese Academy of Sciences
Email: sibssc@sibs.ac.cn