Home >> ALL News >> News
CAS Engineering Laboratory for Nutrition Contributes a Perspective on Emerging Roles of Selenium on Metabolism and Type 2 Diabetes
Selenium is a natural chemical element existing in soil, water, and air. Selenium reaches the human body by food chain through incorporation into plants, animals, and aquatic organisms. From the public health perspective, selenium is treated as an essential micronutrient and is commonly used in dietary supplementation products widely consumed in western countries. Both selenium deficiency and excess have been associated with adverse health effects, and the health effects of selenium are recognized as the inextricable U-shaped link with status. In human beings, the nutritional functions of selenium are achieved by 25 selenoproteins, which is reported to play a role in maintaining redox balance, anti-cancer, and improving immunity, and is closely related to Keshan disease, diabetes, mental disorder, inflammation and infections.
Diabetes is a highly costly chronic disease, with an estimated worldwide prevalence of 463 million adults according to the 2019 report of the International Diabetes Federation Diabetes Atlas (IDF). Type 2 diabetes accounts for 90% of all diabetes and is characterized by defective insulin secretion and/or insulin resistance. Accumulating evidence suggests that oxidative stress plays an important role in both onset and progress. As several selenoproteins have the potential to protect the body from oxidative stress, selenium is expected to be beneficial for alleviating type 2 diabetes. However, recent evidence raised concerns that a high level of selenium exposure may be associated with an increased risk of type 2 diabetes. Although the evidence has suggested that people with low selenium status may benefit from additional selenium intake, selenium intake including selenium supplementation should be excluded for primary or secondary diabetes prevention in populations with adequate selenium status.
Recently, the Health and Functional Food Department from CAS Engineering Laboratory, Shanghai Institute of Nutrition and Health, Chinese Academy of Sciences published a review article on emerging roles of selenium on metabolism and type 2 diabetes. This article summarized the role of selenium in diet and metabolism. The relationship between dietary selenium and the epidemiology of type 2 diabetes were reviewed and discussed. It also discussed the role of major selenoproteins in the regulation of glucose and lipid metabolism and its significant metabolic mechanism in the pathogenesis of type 2 diabetes.
The Health and Functional Food Department is committed to responding to the important deployment of the national "Healthy China" initiative, taking the development needs of the nutrition and health industry as the starting point. It mainly aims at the demand for research and development of nutrition intervention products for metabolic diseases, cardiovascular diseases, tumors and nervous system diseases, The department carries out original innovation and integrates innovation in three directions: research and development of nutrition intervention products and technologies, functional evaluation and industrial services of nutrition and health products, as well as the clinical trials and promotion of nutrition intervention products. It will provide innovative resources and engineering technical support for the research and development of nutritional and functional food in China.
This work was published online in Frontiers in Nutrition on November 10th, 2022 as a review article entitled "Emerging roles of selenium on metabolism and type 2 diabetes". This work was supported by grants from the National Key R&D Program of China, the National Natural Science Foundation of China, the Open Project Program of Metabolic Vascular Diseases Key Laboratory of Sichuan Province.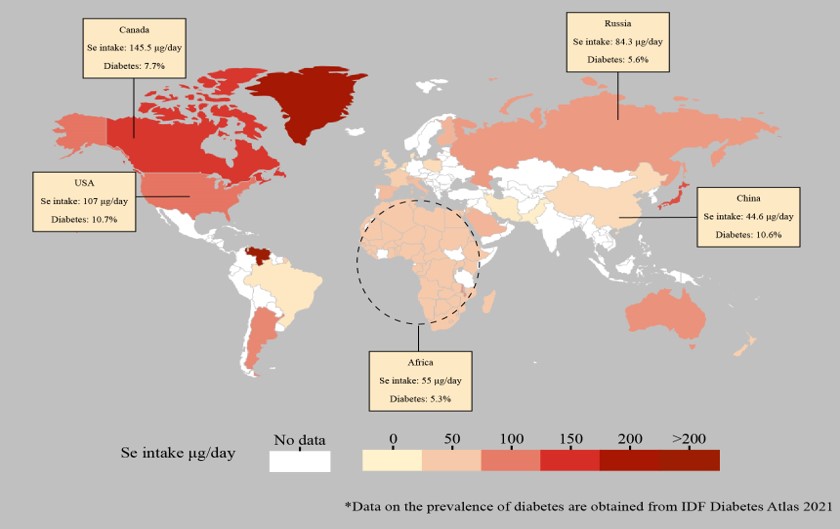 Global estimated daily intake of selenium and prevalence of diabetes. (Image provided by CAS Engineering Laboratory for Nutrition)
Media Contact:
WANG Jin
Shanghai Institute of Nutrition and Health,
Chinese Academy of Sciences
Email: wangjin01@sinh.ac.cn
Web: http://english.sinh.cas.cn/