Home >> ALL News >> News
Toward Precision Medicine: Potential Favorable Outcomes for MYC-positive Gastrointestinal Cancer Patients Receiving TYMS Inhibitor Treatment
Thymidylate synthase (TYMS) is a rate-limiting enzyme responsible for the sole de novo synthesis of thymidylate, and catalyzes the reductive methylation of uracil deoxynucleoside monophosphate (dUMP) to produce thymine deoxynucleoside monophosphate (dTMP) using the cofactor methylene-tetrahydrofolate. dTMP can be further phosphorylated to thymine deoxynucleoside triphosphate (dTTP) as one of the major materials for DNA synthesis and repair.
As one of the most successful chemotherapeutic targets, numerous anticancer drugs like dUMP and folate analogs have been developed based on thymidylate synthase for treating malignant tumors, including 5-fluorouracil (5FU), methotrexate (MTX), raltitrexed (RTX) and pemetrexed (PTX). Unfortunately, the therapeutic efficacies of TYMS inhibitors are modest. Thus, there's unmet goal for identifying a biomarker to guide the precise use of TYMS inhibitors in the clinic.
Dr. LANG Jing-Yu's research team at the Shanghai Institute of Nutrition and Health of Chinese Academy of Sciences identified that thymidylate synthase was crucial for maintaining the survival of gastrointestinal cancer cells through genome-wide CRISPR-Cas9 knockout (GeCKO) screening, which could be selectively inhibited TYMS inhibitors like RTX. In order to identify the genetic determinants that preset the sensitivity of gastrointestinal tumor to TYMS inhibitors, they performed the second round of GeCKO screening and identified that MYC, which is amplified in 13.2% and 6.4% of TCGA stomach and colorectal adenocarcinoma cases, is a potential candidate that affects the drug sensitivity of gastrointestinal tumors to TYMS inhibitors like RTX. Mechanistically, they approved that MYC acts as a key transcription factor for up-regulating TYMS transcription and presets the sensitivity of gastrointestinal tumor to TYMS inhibitors.
At the same time, researchers found that NIPBL, a loading factor of cohesin complex that inactively mutated in 10.2% and 6.4% of stomach and colorectal tumors, respectively, greatly impaired the sensitivity of gastrointestinal tumor to TYMS inhibitors through down-regulating MYC bioactivity. Furthermore, they showed that gastrointestinal cancer patients with high MYC or TYMS mRNA expression had better clinical responses to TYMS inhibitors, suggesting that MYC is a potential biomarker for predicting the therapeutic responses of gastrointestinal tumor to TYMS inhibitors in the clinic.
This research entitled "MYC predetermines the sensitivity of gastrointestinal cancer to antifolate drugs through regulating TYMS transcription" was published online in EBioMedicine on Oct 21th, 2019. It was mainly conducted by PhD student LIU Tingting, HAN Yumin and YU Chunhong at Dr. Lang's team, and was financially supported by research grants from National Key R&D Program of China, Science and Technology Commission of Shanghai Municipality, National Natural Science Foundation of China, and Chinese Academy of Sciences.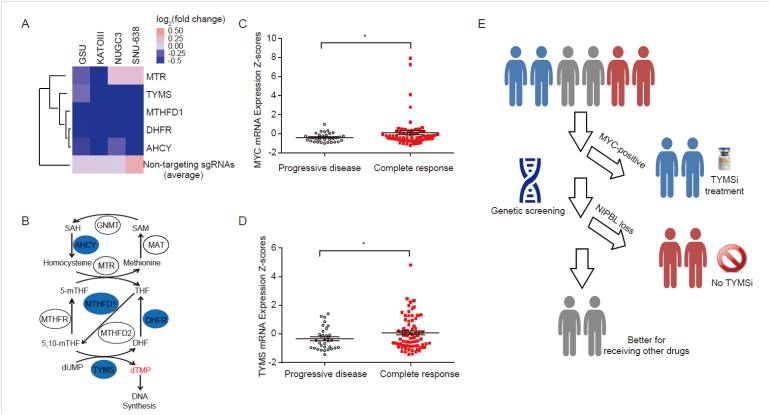 Gastrointestinal cancer patients with high MYC expression would most likely benefit from TYMS inhibitors treatment. (Image by Dr. Lang's research team)
Media Contact: 
WANG Jin (Ms.) 
Shanghai Institute of Nutrition and Health,
Chinese Academy of Sciences 


Email: sibssc@sibs.ac.cn