Home >> People >> Faculty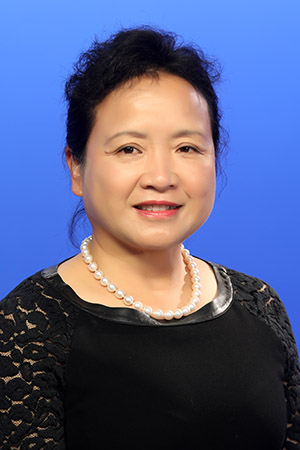 LIN Xu
M.D, Ph.D.
Professor, Principal Investigator
Laboratory of Human Nutrition and Related Diseases
Email: xlin@sibs.ac.cn
Tel: 86-21-54920249
Biography:
Dr. Lin received her PhD from Division of Nutritional Science, Cornell University and was trained as a postdoctoral fellow in University of North Carolina at Chapel Hill and Duke University. She became a professor and a Principal Investigator in Institute for Nutritional Sciences in SIBS since 2003 and served as the director for Key Laboratory of Nutrition and Metabolism in CAS (2008-16). Since 2017, the institution where Dr. Lin works has been reformed and renamed as Shanghai Institute of Nutrition and Health (SINH), CAS. She was PI for the MOST supported Chinese national genome-wide association study for type 2 diabetes and also serves as PI for the Metabolic Disease in Chinese National Precision Medicine Project supported by MOST supported. Lin's team established the first GWAS database (20,000 subjects) for type 2 diabetes in China and discovered or confirmed about 300 genetic variants associated with obesity, T2D and other metabolic abnormalities as well as to fatty acids, vitamin D and iron status. Her team also established a multiple omic-based prospective Chinese cohort and found over 100 omic-based biomarkers related with diet/nutrients or environmental exposure. They have conducted several intervention trails and fond beneficial effects of flaxseed, walnuts and brown rice on high risk indivuals with metabolic diseases, as well as the dose-response and impacts of genetic and Non-genetic Factors on efficiency of vitamin D intervention. So far, she has published about 100 papers in international reputable journals including Circulation, J Am Coll Cardiol, Diabetes, Am J Clin Nutr, Nature and Nature Genetics. She was listed as one of most cited researchers in China (Medicine) by Elsevier from 2014 to 2017). Dr. Lin currently sits on the editorial board of a number of international scientific journals and is the co-Editor-in-Chief for Nutrition & Metabolism (Springer Nature).
Research Areas:
Effects of genetic and environment factors (diet/lifestyle) and gene-environmental and gene-phenotype interaction on the development of obesity, related metabolic syndrome and type 2 diabetes in Chinese populations;

The predictive roles of omic-based biomarkers for nutrition status and metabolic disease risks;

Dietary intervention for individuals with high metabolic risks;

Effects of genetic and non-genetic factors on individual nutritional needs.
Selected Publications:(*Corresponding Author)
1. Ye X, Yu Z, Li H, Franco OH, Liu Y, Lin X*. Distributions of c-reactive protein and its association with metabolic syndrome in middle-aged and older Chinese people. Journal of the American College of Cardiology, 2007;49(17):1798-1805.
2. Yu Z, Ye X, Wang J, Qi Q, Franco OH, Rennie KL, Li H, Liu Y, Hu FB, Lin X*. Associations of physical activity with inflammatory factors, adipocytokines and metabolic syndrome in middle-aged and older Chinese people. Circulation, 2009;119(23):2969-2977.
3. Li H, Gan W, Lu L, Dong X, Han X, Hu C, Yang Z, Sun L, Bao W, Li P, He M, Sun L, Wang Y, Zhu J, Ning Q, Tang Y, Zhang R, Wen J, Wang D, Zhu X, Guo K, Zuo X, Guo X, Yang H, Zhou X, DIAGRAM Consortium, AGEN-T2D Consortium, Zhang X, Qi L, Loos RJ, Hu FB, Wu T, Liu Y, Liu L, Yang Z, Hu R, Jia W, Ji L*, Li Y*, Lin X*. A Genome-Wide Association Study Identifies GRK5 and RASGRP1 as Type 2 Diabetes Loci in Chinese Hans. Diabetes, 2013; 62(1):291-298.
4. Zong G, Zhu J, Sun L, Ye X, Lu L, Jin Q, Zheng H, Yu Z, Zhu Z, Li H, Sun Q*, Lin X*. Associations of fatty acids in the de novo lipogenesis pathway with risk of metabolic syndrome in middle-aged and older Chinese. Am J Clin Nutr, 2013; 98(2):319-326.
5. Sun L, Liang L, Gao X, Zhang H, Yao P, Hu Y, Ma Y, Wang F, Jin Q, Li H, Li R, Liu Y, Hu FB, Zeng R*, Lin X*, Wu J*. Early Prediction of Developing Type 2 Diabetes by Plasma Acylcarnitines: A Population-Based Study. Diabetes Care, 2016;39(9):1563-1570.
6. Yao P, Sun L, Lu L, Ding H, Chen X, Tang L, Xu X, Liu G, Hu Y, Ma Y, Wang F, Jin Q, Zheng H, Yin H, Zeng R, Chen Y, Hu FB, Li H*, Lin X*. Effects of Genetic and Non-genetic Factors on Total and Bioavailable 25(OH)D Responses to Vitamin D Supplementation. J Clin Endocrinol Metab, 2017;102(1):100-110.