Home >> People >> Faculty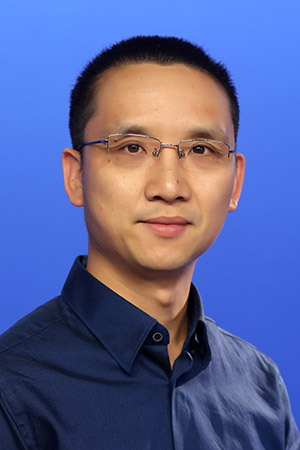 HU Guohong
Ph.D.
Professor, Principal Investigator
Laboratory of Tumor Metastasis
Email: ghhu@sibs.ac.cn
Tel: 86-21-54923296
Research Areas:
We are interested in elucidating how and where cancer cells metastasize. We primarily aim to study the molecular mechanisms governing tumor adaptation and remodeling of distant microenvironment for metastatic colonization, and how these processes can be prevented and reversed. Recently we are working on the followingspecific aspects regarding tumor-microenvironment interaction: (1) the regulation of breast cancer metastasis organotropism; (2) cancer stem cell heterogeneity and metastasis regulation; (3) glucose and lipid metabolic regulation during metastasis.
Brief Biography:
2017-Present: Professor, Principal Investigator, President Assistant, Shanghai Institute of Nutrition and Health, Chinese Academy of Sciences
2009-2016: Professor, Principal Investigator, Institute of Health Sciences, Shanghai Institutes for Biological Sciences, Chinese Academy of Sciences and Shanghai Jiao Tong University School of Medicine
2005-2009: Postdoctoral Research Associate/Associate Research Scholar, Department of Molecular Biology, Princeton University, Princeton, NJ, USA
2000-2005: Ph.D. of Molecular Biology, Robert Wood Johnson Medical School, Rutgers University, New Brunswick, NJ, USA
1996-2000: B.S. of Biology, Tsinghua University, Beijing, China
Selected Publications: (*Co-corresponding author; # Co-first author)
1. Hu G, Wang, H-Y, Frikker DM, Azaro MA, Luo M, Tereshchenko IV, Cui X, Yang J-M, Gao R, Shen L, Li H. Accu Typing: New algorithms for automated analysis of data from high-throughput genotyping with oligonucleotide microarrays. Nucleic Acids Res, 2006; 34(17):e116.
2. Korpal M, Lee ES, Hu G, Kang Y. The miR-200 family inhibits epithelial-mesenchymal transition and cancer cell migration by direct targeting of E-cadherin transcriptional repressors ZEB1 and ZEB2. J Biol Chem, 2008; 283:14910-4.
3. Hu G#, Yang Q#, Yue G, Azaro MA, Wang H-Y, Cui X, Li H. A highly sensitive and specific system for large-scale gene expression profiling. BMC Genomics, 2008; 9:9. (Rated as "Highly Accessed" article by BMC).
4. Hu G, Chong R, Yang Q, Wei Y, Li F, Blanco A, Reiss M, Au J-S, Haffty B, Kang Y. MTDH activation by 8q22 genomic gain promotes chemoresistance and metastasis of poor-prognosis breast cancer. Cancer Cell, 2009; 15(1):9-20.
5. Hu G, Wei Y, Kang Y. The multifaceted role of MTDH/AEG-1 in cancer progression. Clin Cancer Res, 2009; 15(18):5615-20.
6. Hu G, Kang Y, Wang X-F. From breast to the brain: unraveling the puzzle of metastasis organotropism. J Mol Cell Biol, 2009; 1(1):3-5.
7. Lu X, Wang Q, Hu G, Poznak CV, Fleisher M, Reiss M, Massagué J, Kang Y. ADAMTS1 and MMP1 proteolytically engage EGF-like ligands in an osteolytic signaling cascade for bone metastasis. Genes Dev, 2009; 23(16):1882-94.
8. Liang Y, Fu D, Hu G. MTDH: An emerging key regulator of malignant progression in multiple cancers. Thorac Cancer, 2011; 2:143-8.
9. Korpal M, Ell B, Buffa F, Khan Z, Blanco M, Hua Y, Wei Y, Hu G, Garcia B, Ragoussis J, Singh M, Harris A, Kang Y. Direct targeting of Sec23a by miR-200s influences cancer cell secretome and promotes metastatic colonization. Nat Med, 2011; 17(9):1101-8.
10. Shan J#, Budijono S#, Hu G#, Yao N, Kang Y, Ju Y*, Prud'homme R*. PEGylated composite nanoparticles containing upconverting phosphors and meso-tetraphenylporphine (TPP) for photodynamic therapy. Adv Funct Mater, 2011; 21(13):2488-95.
11. Liang Y, Wu H, Lei R, Chong RA, Wei Y, Lu X, Tagkopoulos I, Kung S-Y, Yang Q, Hu G*, Kang Y*. Transcriptional network analysis identifies BACH1 as amaster regulator of breast cancer bone metastasis. J Biol Chem, 2012; 287(40):33533-44.
12. Jin L#, Zhang Y#, Li H, Yao L, Fu D, Yao X, Xu L*, Hu X*, Hu G*. Differential secretome analysis reveals CST6 as a suppressor of breast cancer bone metastasis. Cell Res, 2012; 22(9):1356-73.
13. Zhang N, Wang X, Huo Q, Li X, Wang H-Y, Schneider P, Hu G*, Yang Q*. The oncogene metadherin modulates the apoptotic pathway based on the tumor necrosis factor superfamily member TRAIL in breast cancer. J Biol Chem, 2013; 288(13):9396-407.
14. Lin B#, Wang Y#, Wang Z, Tan H, Kong X, Shu Y, Zhang Y, Huang Y, Zhu Y, Xu H, Wang Z, Wang P, Ning G, Kong X*, Hu G*, Hu L*. Uncovering the rare variants of DLC1 isoform 1 and their functional effects in a Chinese sporadic congenital heart disease cohort. PLoS One, 2014; 28; 9(2):e90215.
15. Wang Y, Lei R, Zhuang X, Zhang N, Pan H, Li G, Hu J, Pan X, Tao Q, Fu D, Xiao J, Chin E, Kang Y, Yang Q*, Hu G*. DLC1-dependent parathyroid hormone-like hormone inhibition suppresses breast cancer bone metastasis. J Clin Invest, 2014; 124(4):1646-59.
16. Zhang N, Wang X, Huo Q, Sun M, Cai C, Liu Z, Hu G, Yang Q. MicroRNA-30a suppresses breast tumor growth and metastasis by targeting metadherin. Oncogene, 2014; 33(24):3119-28.
17. Lei R#,Tang J#, Zhuang X, Deng R, Li G, Yu J, Liang Y, Xiao J, Wang H-Y, Yang Q, Hu G. Suppression of MIM by microRNA-182 activates RhoA and promotes breast cancer metastasis. Oncogene, 2014; 33(10):1287-96.
18. Liang Y#, Hu J#, Li J, Liu Y, Yu J, Zhuang X, Mu L, Kong X, Hong D, Yang Q, Hu G. Epigenetic activation of TWIST1 by MTDH promotes cancer stem-like Cell traits in breast cancer. Cancer Res, 2015; 75:3672.
19. Yu J#, Lei R#, Zhuang X, Li X, Li G, Lev S, Segura MF, Zhang X, Hu G. MicroRNA-182 targets SMAD7 to potentiate TGFβ-induced epithelial-mesenchymal transition and metastasis of cancer cells. Nat Commun, 2016; 7:13884.
20. Chen X, Cao X, Sun X, Lei, Chen P, Zhao Y, Jiang Y, Yin J, Chen R, Ye D, Wang Q, Liu Z, Liu S, Cheng C, Mao J, Hou Y, Wang M, SiebenlistUt, Chin E, Wang Y, Cao L, Hu G*, Zhang X*. Bcl-3 regulates TGFβ signaling by stabilizing Smad3 during breast cancer pulmonary metastasis. Cell Death Dis, 2016; 7(12):e2508.
21. Huang H, Zhang W, Pan Y, Gao Y, Deng L, Li F, Li F, Ma X, Hou S, Xu J, Li P, Li X, Hu G, Li C, Chen H, Zhang L, Ji H. YAP suppresses lung squamous cell carcinoma progression via deregulation of the DNp63-GPX2 axis and ROS accumulation. Cancer Res, 2017; 77(21):5769-5781.
22. Hu J#, Li G#, Zhang P, Zhuang X, Hu G. A CD44v+ subpopulation of breast cancer stem-like cells with enhanced lung metastasis capacity. Cell Death Dis, 2017; 8(3):e2679.
23. Li N, Xue W, Yuan H, Dong B, Ding Y, Liu Y, Jiang M, Kan S, Sun T, Ren J, Pan Q, Li X, Zhang P, Hu G, Wang Y, Wang X, Li Q, Qin J. AKT-mediated stabilization of WHSC1 promotes prostate cancer metastasis. J Clin Invest, 2017; 127(4):1284-1302.
24. Li G, Li M, Hu J, Lei R, Xiong H, Ji H, Yin H, Wei Q*, Hu G*. The microRNA-182-PDK4 axis regulates lung tumorigenesis by modulating pyruvate dehydrogenase and lipogenesis. Oncogene, 2017; 36(7):989-998.
25. Zhuang X, Zhang H, Li X, Li X, Cong M, Peng F, Yu J, Zhang X, Yang Q*, Hu G*. Differential effects on lung and bone metastasis of breast cancer by Wnt signalling inhibitor DKK1. Nat Cell Biol, 2017; 19(10):1274-1285.
26. Zhuang X, Hu G*. In vitro Osteoclastogenesis assays using primary mouse bone marrow cells. Bio-protocol, 2018; 8(11): e2875.
27. Huang C#, Zhang Z#, Chen L#, Lee H, Ayrapetov M, Zhao T, Hao Y, Gao J, Yang C, Mehta G, Zhuang Z, Zhang X, Hu G, Chin E*. Distinct roles of acetylation within the N- and C-terminal domains of Src in STAT3-mediated tumorigenesis regulation. Cancer Res, 2018; 78(11):2825-2838.
28. Zhuang X, Zhang H, Hu G. Cancer and Microenvironment plasticity: double-edged swords in metastasis. Trends Pharmacol Sci, 2019; 40(6):419-429. Recommended by F1000.
29. Zhang H, Zhang N, Liu Y, Su P, Liang Y, Li Y, Wang X, Chen T, Song X, Sang Y, Duan Y, Zhang J, Wang L, Chen B, Zhao W, Guo H, Liu Z, Hu G, Yang Q. Epigenetic regulation of NAMPT by NAMPT-AS drives metastatic progression in triple-negative breast cancer. Cancer Res, 2019; doi:10.1158/0008-5472.CAN-18-3418.
30. Zhao G, Gong L, Su D, Jin Y, Guo C, Yue M, Yao S, Qin Z, Ye Y, Tang Y, Wu Q, Zhang J, Cui B, Ding Q, Huang H, Hu L, Chen Y, Zhang P, Hu G, Chen L, Wong KK, Gao D, Ji H. Cullin5 deficiency promotes small-cell lung cancer metastasis by stabilizing integrin β1. J Clin Invest, 2019; doi: 10.1172/JCI122779.
31. Deng J, Guo Y, Yuan F, Chen S, Yin H, Jiang X, Jiao F, Wang F, Ji H, Hu G, Ying H, Chen Y, Zhai Q, Xiao F, Guo F. Autophagy inhibition prevents glucocorticoid-increased adiposity via suppressing BAT whitening. Autophage, 2019; doi: 10.1080/1554862.
32. Cong M, Wang Y, Yang Y, Lian C1, Zhuang X, Li X, Zhang P, Liu Y, Tang J, Yang Q, Zhang X, Xiong H*, Hu R*, Hu G*. MTSS1 Suppresses Expansion and Activity of Mammary Tumor-Initiating Cells by Enhancing RBCK1-Mediated P65 Ubiquitination. Nat Cancer, 2020; doi:10.1038/s43018-019-0021-y.